wróć
Pałac Ciekocinko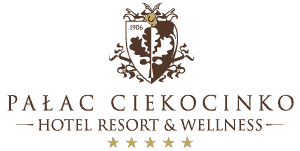 HOTEL BUTIKOWY BLISKO NATURY
Wszystko zaczęło się od idei znalezienia zabytkowego majątku ziemskiego, który warto uratować.
Prace trwały 10 lat. Rekonstrukcja zdewastowanego pałacu była bardzo wymagająca. Od początku założeniem było stworzenie miejsca wyjątkowego. Majątek Ciekocinko to nie tylko zabytkowy pałac z 1910 roku ale również park, dawne założenie folwarczne, stajnie z 1906 roku oraz otaczające nas założenie naturalistyczne.
Koncepcja projektu: podróż w czasie. Przenosimy się 100 lat wstecz. Służy temu każdy szczegół miejsca: zabytkowe meble, ręcznie wykonane tapety, oryginalne telefony. Przełom XIX wieku to epoka Secesji i ArtDECO eksplodowały one sztuką dekoratywną.
Za największe osiągnięcie w realizacji tego projektu uważam zachowanie konsekwencji.
Mimo długiej drogi, pełnej trudnych momentów i chwil zwątpienia, nie poszliśmy na skróty, dzięki czemu całe zamierzenie jest dziś spójne w swojej jakości i kompozycji.
W skład projektu, wchodziła zarówno rewitalizacja/rozbudowa samego obiektu (między innymi o halę basenową i pomieszczenia Spa  wraz z niezbędną infrastrukturą), jak i niezbędne do tego celu ekspertyzy techniczne.