wróć
NEOPOLIS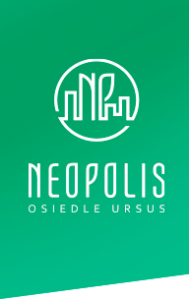 NeoPolis to kompleks 4 nowoczesnych budynków apartamentowych, które powstaną w otoczeniu zielonej postindustrialnej części warszawskiego Ursusa. W I etapie inwestycji oddany zostanie 8-kondygnacyjny budynek mieszkalny z lokalami usługowymi na parterze i garażami podziemnymi.
Modernistyczna bryła budynku i wysoki standard wykończenia to doskonała opcja dla tych, którzy szukają nietuzinkowych rozwiązań dotyczących przyszłego miejsca zamieszkania. Budynki zostały doskonale wkomponowane w przestrzeń Ursusa oraz wzbogacone o zieleń na dziedzińcach, ogródkach i terenach przy budynku.
Projekt zanurzony w naturze to doskonałe miejsce na to, by nabrać dystansu i uciec od zgiełku, pozostając jednocześnie w tkance miejskiej. Zielone strefy rekreacyjno-użytkowe i relaksu, naturalne zabawki dla dzieci, tor przeszkód dla psów, łąka kwietna, czy też hamaki, huśtawka, siedziska, ławki, stół piknikowy i rekreacyjny z szachownicą to niewątpliwie zalety tej inwestycji.
Istotnym elementem projektu są drzewa, dające poczucie bujnej i bogatej roślinności.
W pierwszym budynku zostanie wybudowanych 147 komfortowych mieszkań o powierzchni od 34 do 91 m2, z ogródkami, balkonami lub loggiami. Ich funkcjonalne rozkłady o wysokości od 2,72 m do 4,0 m to wiele możliwości aranżacji wnętrz.
Na ostatniej kondygnacji zaprojektowano wycofane w bryle budynku tarasy. Do każdego z mieszkań przynależeć będą miejsca postojowe w garażu podziemnym.
Elementy elewacji NeoPolis, budynku nowoczesnego i eleganckiego, wykończone będą tynkami mineralnymi w kolorze białym oraz lokalnie okładziną z płytek elewacyjnych w kolorze szarym. Na balkonach zaprojektowano balustrady aluminiowe z wypełnieniem szkłem półprzeziernym.