wróć
Osiedle mieszkaniowe na terenie Zakładów Mechanicznych Ursus – Ogniowa etap B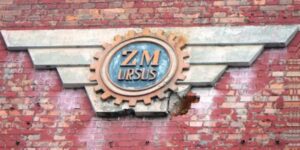 Projektowane trzy budynki to pierwszy z czterech etapów zamierzonej inwestycji osiedla mieszkaniowego na terenie dawnych zakładów mechanicznych Ursus.
Na terenie działek znajdują się ruiny po dawnych zabudowaniach Zakładów Mechanicznych Ursus, które zostały wpisane do rejestru zabytków.
Istniejące obecnie ruiny to dwa przęsła trójnawowej hali odlewni żeliwa oraz ściany zewnętrzne wzdłuż ul. Ogniowej budynków magazynu wsadowego odlewni.
Ideą projektową było wpisanie się nową zabudową w istniejącą tkankę zabytkową zastaną na terenie Zakładów oraz zachowanie pozostałych zabudowań.
Pozostałości po budynkach Zakładów zamierza się pozostawić w jak największym stopniu bez ingerencji. Planuje się je oczyścić z elementów zagrażających bezpieczeństwu oraz zabezpieczyć przed dalszą degradacją.
Na terenie zaprojektowano reprezentacyjne wejście od strony ul. Dyrekcyjnej, które stanowią fronty pozostałości po hali odlewni żeliwa oraz magazynu wsadowego odlewni.
W nawach hali odlewni przewidziano funkcję wystawienniczo-muzealną z amfiteatrem, miejscem na ekspozycję zdjęć oraz eksponatów z dawnych Zakładów Mechanicznych Ursus.
Wzdłuż ściany zachodniej przewidziano zadaszony zielony pasaż z ławkami i miejscem do wypoczynku. Przestrzeń muzealno – wystawiennicza w pozostałościach hali odlewni będzie otwarta na reprezentacyjny plac wewnętrzny przymknięty nową zabudową.
Nowa zabudowa w postaci trzech budynków powstałych od strony ul. Silnikowej będzie miała w zależności od budynku 7-8 kondygnacji nadziemnych oraz jednokondygnacyjny garaż podziemny.